Top Rated West Palm Beach Mold Cleanup Services
Here at Titan Remediation, our professional team of mold removal experts recognizes that mold growth can stop, but the damage left behind remains. While mold removal chemicals can kill the mold spores, the chemicals can't restore the home's integrity to how it was before the fungus disaster happened. Titan Remediation is a company that offers West Palm Beach mold cleanup services, after we have killed off the spores in our restoration work; we can help you fully recover your property while returning it to a state of perfection that's safe for you and your family.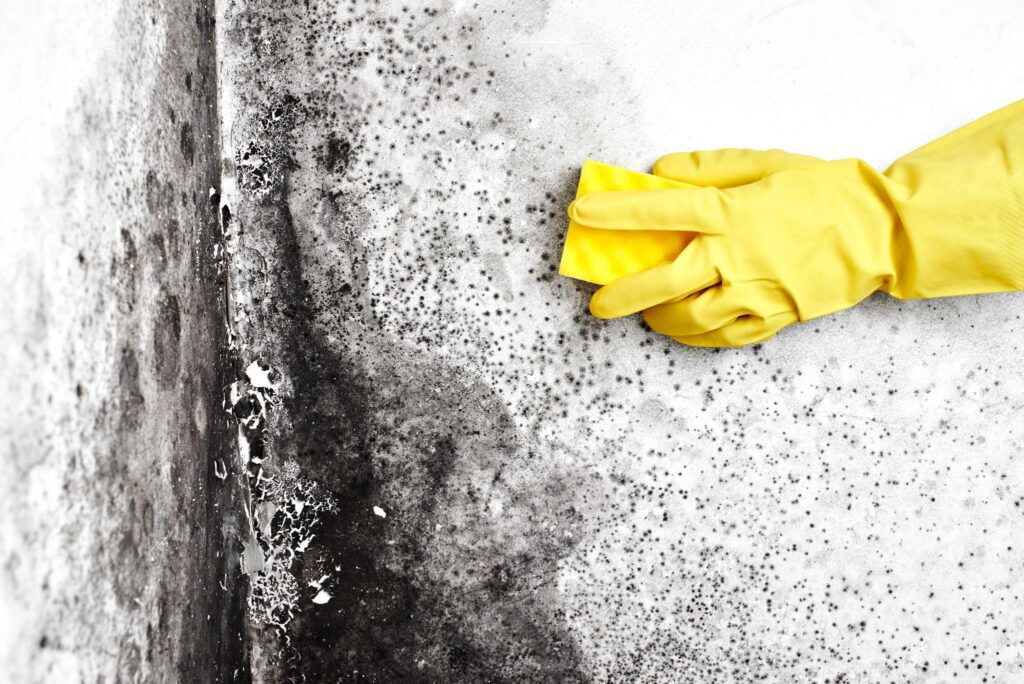 Our mold cleanup services start with us using an antimicrobial chemical to kill the mold, but the process doesn't end there. Additional steps must be taken to fully rid the home of mold and restore it to its former glory. HEPA filters are often used to vanish any mold spores that might be floating through the air in your home. These spores can't be seen by the human eye, but they will relocate to an ideal surface and begin to repopulate if not eradicated on the spot. If airborne mold spores aren't destroyed, the problem will just resurface and continue.
Unlike other West Palm Beach mold cleanup companies, we have a wide range of mold-fighting weapons in our arsenal, including cold sterilization dry fogging. This is the fastest, and most effective way to kill mold spores in a home, yet very few mold cleanup service providers offer it, as they don't have the latest technology, training, or certifications to offer this type of mold cleanup in West Palm Beach. In addition to killing 100% of mold spores (the only mold cleanup method that can make this claim) cold sterilization dry fog also kills any remnant of the COVID virus, and it destroys all other viruses, toxins and pathogens leaving your home as sterile as medical clean room standards. Titan Remediation can perform traditional mold cleanup services or use dry fogging in the process. The choice is left to the homeowner.
Cold Sterilization Dry Fogging and Mold Cleanup
Without a single doubt, the best way to perform mold cleanup is to begin with cold sterilization dry fogging. The dry fog mist that's sprayed into a space is a hydrogen- peroxide based solution, containing zero moisture, and specialized crystals that float through the air going anywhere mold spores can go. Here are some reasons why it is the best way to perform mold cleanup West Palm Beach jobs:
Dry fogging kills 100% of all molds, period.
Dry fogging kills ALL mold in a standard 2000 SF home in less than 30 minutes.
Because there is no moisture, homeowners don't need to remove electronics, furniture, or other valuables in preparation for the process.
Dry fogging is environmentally friendly and non-toxic; it won't harm pets, people, or plants.
Because dry fogging kills 100% of mold very quickly, mold cleanup crews can move on to restoring the surfaces that have been marred by black mold in record time.
Dry fogging allows other mold cleanup crew members to move in and perform their jobs more quickly, which ultimately saves you money.
When it comes to West palm Beach mold cleanup companies, Titan Remediation is the only provider in the area that offers a full restoration service for mold removal, water damage restoration, cold cleanup, and we have the latest technology and certified team members to get your home back to its pristine state. In addition, when homeowners select dry fogging as part of the process, not only does the job get done quicker, but they gain peace of mind knowing that all viruses (including COVID), mold spores, other viruses, and pathogens are killed off completely leaving the living space and all objects within at a sterilization grade reflecting the standards of a medical clean room.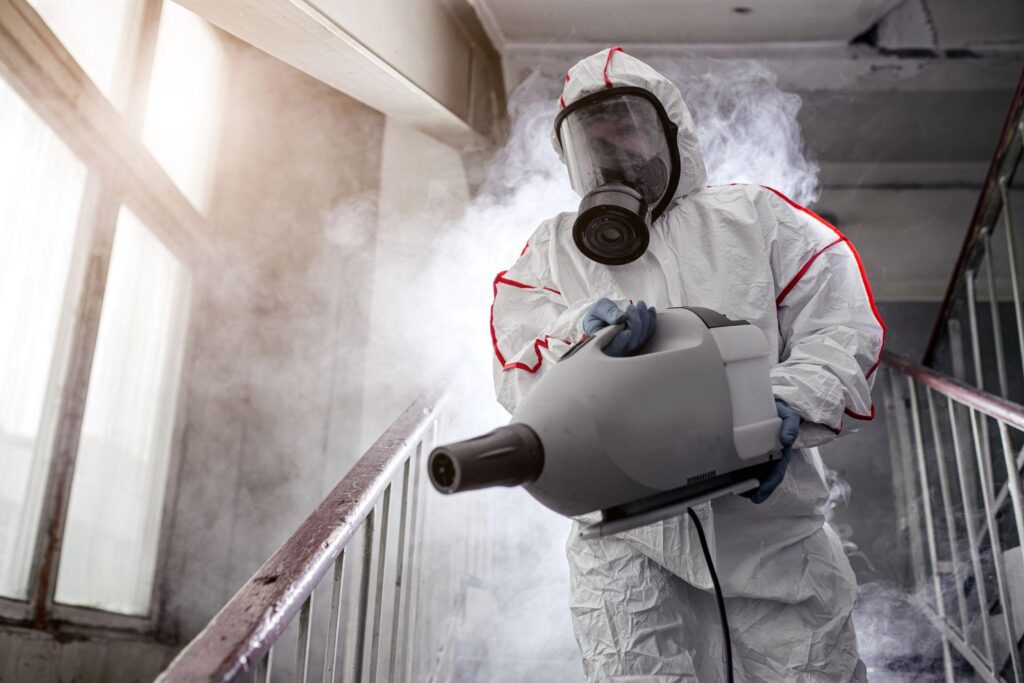 Titan Remediation Mold Cleanup in West Palm Beach
The mold cleanup pros of Titan Remediation arrive at your home, inspect every corner, and piece together a strategy that considers all the different types of materials and surfaces that mold may have contaminated. This means our mold cleanup experts carefully inspect and test all surfaces and educate you on the best course of action. When you use dry fogging as part of your mold cleanup service, there is no need to rid your home of some of the items that test positive for mold. Once the rooms and your belongings have undergone advanced mold cleanup with our dry fogging solution, we take the necessary steps to help you rebuild and start over again in a sterile, safe home. While other mold cleanup companies in West Palm Beach suggest having your air conditioner system professionally cleaned (A/C's are notorious breeding grounds for mold), dry fogging, even released into the middle of a room, will float into your HVAC and AC units, completely killing all mold while sterilizing the internal parts of the unit.
Titan Remediation's mold cleanup team also takes the needed steps to locate the cause of the moisture problem in your home that caused the mold spores to begin with. Once our mold cleanup crew destroys every last spore, we then use the latest technology to fully dry your home, we fix the problem that caused the moisture to enter your home, and we don't leave until every room is in a state of pristine condition. Whether you suffered from hurricane damage, a flood, a roof leak, or a pipe burst, our mold cleanup crew follows a strict process that combines mold removal, water damage restoration, mold cleanup, and any needed repairs which is why we are considered the best mold cleanup West Palm Beach has to offer!
Call Titan Remediation in West Palm Beach for the Best Mold Cleanup Services
Titan Remediation is standing by 24/7 to take your call and help restore your home to a clean, safe dwelling with the most advanced mold cleanup services available. We treat every customer like family, and this means we don't leave your home unless we would feel comfortable having our own family live there. Whether you have black mold on the walls, on your flooring around a leaking appliance, you have a dampness in the home accompanied with a musky smell (a strong sign of mold), our team will rush over, do a thorough mold inspection, pinpoint the contaminated areas, and use the latest tactics in mold cleanup to return your home to you as a safe, sterile environment. Call now before the problem only gets worse!