Keep Your
Home and Business

Safe From Mold
We work quickly to prevent further damage and remove the contamination.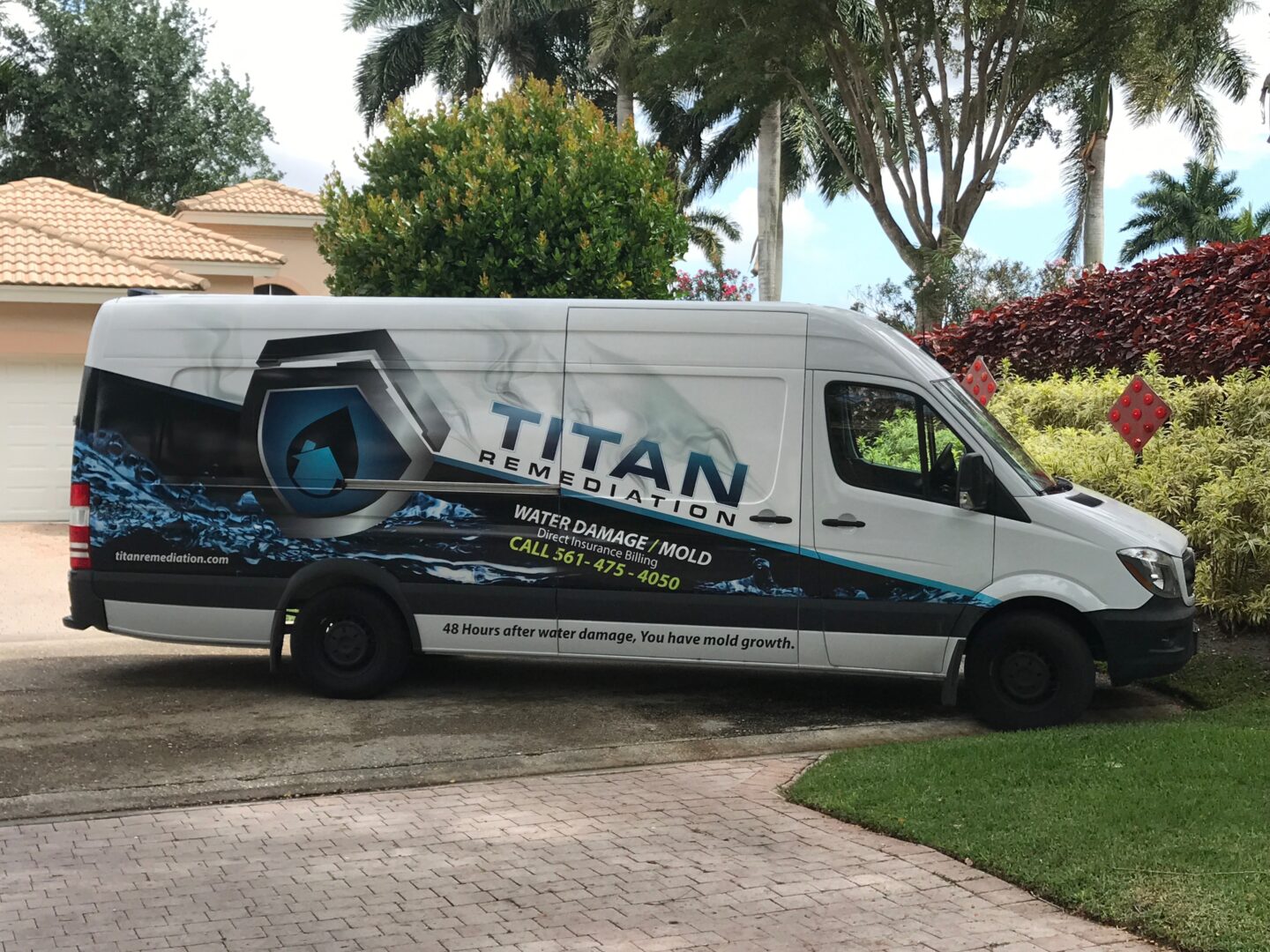 Keep Your
Home and Business

Safe From Mold
We work quickly to prevent further damage and remove the contamination.
Highly Trained Mold Remediation Specialists
At Titan Remediation Industries Inc., our team has the training and expertise to remove the mold in your home or office. We are equipped with the latest technology to ensure that the treatment of your establishment is thorough and efficient.
Our company takes pride in what we do. Over the years, we have created a reputation for being respectful, prompt, and systematic. Your satisfaction is one of our top priorities, which is why we are committed to delivering excellent results.
Molds are a kind of fungus that is commonly caused by high humidity, condensation, and water leaks. They can damage not only your property but also jeopardize your health.
We offer storm, water, and mold damage removal as well as mold inspection, remediation, and protocol. You can be sure that we have an on-site biologist in each job for the safety of our workers and clients. Aside from this, we also have a team of attorneys available for your insurance claims.
Best Water Damage Restoration Services in West Palm Beach and Mold Removal
Water damage restoration is required when homes and businesses experience flooding caused by plumbing issues, hurricane damage, heavy rainfall, appliance leaks, pipe leaks, and general flooding. When you call Titan Remediation for water damage restoration services in West Palm Beach and surrounding areas we stop the source of the flooding, remove valuable items from your living space to safe areas, perform water removal and water mitigation services, and we initiate full water damage restoration services, restoring your home to as good as new, and in many cases we have even helped to modify the home's layout to improve better function for the family.
For over a decade, Titan Remediation has helped thousands of our valuable customers and their families make a full recovery from going through the chaos of water damage. Ranging from flooding to mold removal services, regardless of the problem or the size of the job, we are on call 24/7 to respond immediately, as time means everything.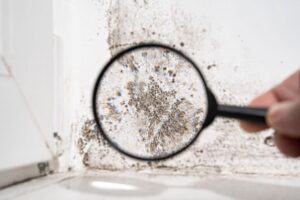 Water damage is the most common problem that our Titan Remediation technicians face, and more than half of these calls also include mold infestations when the flooding source comes from plumbing pipe bursts, leaking roofs, and appliance leaks. For example, a slow pipe leak within a wall can take a while before a soft spot visibly appears on the wall, and by then, black mold, which is dangerous for your health, will likely have developed. If left ignored, the extent of the water damage and mold problem will expand and spread to other areas of the home. Toilet backflows, burst sewage pipes, and problematic faucets also lead to water damage problems that we deal with all the time. Ultimately, the more time that goes by when you have water damage, the greater the damage is that impacts your home's integrity. Our number one priority is to ensure that you and your family are left in a home that is safe, and we also perform water damage restoration in a manner to maintain the resale value of your home, and in some cases our services can even increase the value of your home.
When Do You Need Water Damage Restoration Services?
The need for water damage restoration services can arise from several sources. Here are some problems and cleanup needs that occur in West Palm Beach and Palm Beach County:
Sewage backup
Burst pipes
Frozen pipes (yes, pipes can freeze in Palm Beach County, though it is not common)
Sewage cleanup
Sump pump cleanup
Foundation flooding
Ceiling and wall water cleanup
Appliance leaks
Tree roots growing into pipes
Flooded water in crawl space / crawl space encapsulation
Storm repair and remediation
Flood damage cleanup
Flooded basement restoration and cleanup
Water removal and drying
Pool leaks / pool flooding
When dealing with a complex and devastating situation like water damage, you need a team that can respond quickly, and get the job done right the first time. You can Trust Titan Remediation because we have decades of saving homes across Palm Beach County from the chaos of flooding and water damage, and our clients highly recommend us, with repeat business. Call Titan Remediation today for reliable, 24-hour service for all your flooding and water damage needs. No matter how big or how small the job is, we will send the right team of highly skilled, licensed, and certified experts to perform full water damage restoration services.
Commercial Water Damage Restoration Services in West Palm Beach
If you have discovered water damage or mold at work, then you need to call for commercial water damage restoration services in West Palm Beach, and you need to ensure that the technicians are also certified and equipped to perform mold inspections, and mold removal services. Whether there is a wet spot on the ceiling, floor or wall coming from a pipe burst, you have hurricane damage, or the basement is flooded, Titan Remediation is able to solve the problem, and restore everything so that you are in a safe, clean working environment. Titan Remediation performs commercial water damage restoration services in Palm Beach County, and we also dispatch our commercial water damage restoration team to respond to emergencies located all over Florida.
One of the reasons why businesses from all over the state of Florida call Titan Remediation for commercial water damage restoration services is that we are the only certified team that offers cold sterilization dry fogging, a hydrogen peroxide-based mist that wills 100% of all mold spores instantly. To dry fog a 30,000 square foot building with multiple offices and dwelling areas usually takes less than 45 minutes, saving companies a great degree of time, and their employees appreciate the guarantee that all mold has been removed leaving them in a safe working condition.
Mold Removal and Mold Remediation in West Palm Beach
Many water damage emergencies also have the presence of mold. Black mold can form after a house flood, and even gradually over time when small pipe leaks occur in walls, under floors and in the ceiling. This is why our water damage restoration services come with a mold inspection. Out West Palm Beach mold remediation services come with the following:
Water extraction
Mold Detection
Mold testing
Mold remediation and mold removal
Water damage restoration
In some cases, walls and sections of the floor can't be saved, and this is why we have a contractor on our team. If it is to the homeowners liking, we can not only restore your home to as good as new, but we can make it better than it was before. We can reconfigure the floorplan to have better functionality for your family. While water damage and mold damage are the things nightmares are made of, we can work with our mold remediation and water damage restoration experts, and our contractors, to leave you with a dream space after the chaos has faded away.
Black mold is hazardous to human health, and to the health of your pets. It can cause respiratory issues, asthma, and in some cases death. When you call Titan Remediation's mold remediation and water damage restoration team, we will make sure that your home is safe for the entire family before we leave.
The Best Mold Remediation West Palm Beach has to Offer, and Top Mold Removal Services
Here at Titan Remediation in West Palm Beach, our mold remediation and water damage restoration professionals know all too well that mold growth will likely not stop unless a highly trained mold remediation company like Titan Remediation intervenes. Once the mold has stopped, the damage left behind remains, and it can destroy the resale value of your home while posing deadly health risks for the family. Our mold remediation West Palm Beach company has the latest technology and the most skilled Palm Beach County mold remediation experts with the best process in the industry for removing mold and water from the home and restoring it to like-new condition, free from contaminants.
Mold remediation begins with our Titan Remediation pros removing all of the mold with an antimicrobial chemical. Then additional measures must be taken in order to rid the home of every last mold spore. Cold sterilization dry fogging can be used to kill ALL bacteria in the home, including mold spores, COVID virus, microbes, and pathogens that may be hiding anywhere from inside your HVAC system, to in between furniture cushions. It is the only method for guaranteeing 100% of all mold removal, including airborne spores. HEPA filters can also be used to rid the home of mold spores floating through the air, but dry fogging is a better method. These spores cause the mold to relocate and begin to repopulate, so destroying them is critical, and not all mold removal companies have the technology to do this, but Titan Remediation offers the best cold sterilization dry fogging in West Palm Beach to remove mold and germs from your home or business. And keep in mind that if an inferior mold removal method is used, and mold spores in the air remain, the problem will just continue.
West Palm Beach and Mold Remediation that Relies on Cold Sterilization Dry Fogging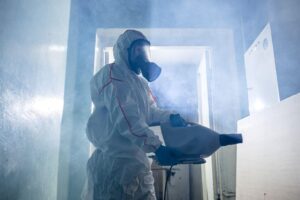 Mold remediation experts and the best water damage restoration specialists in West Palm Beach take into consideration the different types of materials, such as wood flooring, walls, tiles, textiles, and furniture) that water damage and mold may have contaminated. Once everything has been dried using a state-of-the-art commercial drying system, we use cold sterilization dry fogging to destroy every mold spore in every corner of the home. Then we restore all that was damaged. Dry following is a cold sterilization process with a hydrogen peroxide base that is delivered in the form of a mist using a high-tech delivery system. Because there is no moisture, the process is safe for construction materials, furniture, electronics, textiles, papers, and anything else. Furthermore, for an average 2000 square foot home, the cold sterilization dry fogging process only takes 10 minutes to perform, and there is no need to remove items from the home.  Our best mold remediation experts can also wash the non-porous surfaces and educate you on the best course of action with the porous surfaces, however, thanks to cold sterilization dry fogging, there really is no need to perform this time-consuming mold removal process, because dry fogging will kill all mold, in any crevice, instantly. That said, the only cleanup we would need to do by hand is to get rid of stands, and this can usually involve full restoration.
We also take the necessary steps to find the source of the moisture in your home, such as a pipe leak, or a leaking water heater, which is also the likely cause of the mold. Once we locate the sources, our West Palm Beach mold remediation team takes the necessary steps to rid your home of all moisture, and we fix the problem that caused everything to begin with. From water extraction to flood water removal, Titan Remediation guarantees that we get the job done right. We also help you take the necessary steps to help ensure you never have to deal with mold in the house again. When it comes to the best mold remediation West Palm Beach FL has to offer, Titan Remediation has been referred to as the best mold remediation and water damage restoration company people have ever used, based on their reviews. We are the only mold remediation company in Palm Beach County offering fast cold sterilization dry fogging, and we remain at the forefront of science when it comes to fighting mold and household flooding.
Call Titan Remediation for the Mold Remediation, Dry Fogging and Water Damage Restoration West Palm Beach Has to Offer
If you are in need of water damage restoration, mold remediation, water extraction, mold removal, sewage cleanup, water cleanup, water damage repair, a mold inspection, mold cleanup, and cold sterilization dry fogging, call Titan Remediation without delay, and our experts will arrive very quickly with the latest technology and a highly skilled team of certified experts who have passed criminal background checks, and who are dedicated to saving homes in West Palm Beach while bringing safety and order to all families and households. We have been featured on CNN for our work, and we look forward to saving your home and working to keep your property healthy and safe.
• Serving West Palm Beach & Surrounding Areas
• 48 hours after water damage you have mold growth